At Sagar Group we take immense pride in being the authorized distributor for Brother in Nepal. 
Recently, our esteemed Chairman, Sagar Dev Lakhe, and the Vice Chairperson of Sagar Group, Buddha Laxmi Manandhar, had the privilege of representing us on an unforgettable appreciation trip to Japan organized by Brother International Gulf FZE.
About Brother's Appreciation Trip:
From March 11 to 16, 2023, Brother International Gulf FZE organized a special journey to Japan, recognizing the exceptional contributions of selected distributors from the GCC, Levant, and South Asia regions. It was an opportunity for Sagar Distribution, Nepal to stand tall, acknowledging the tireless efforts and dedication we have put into our work.
Experiencing Japan's Wonders:
For six days, our team embarked on an incredible adventure, exploring renowned Japanese tourist destinations such as the vibrant Shinjuku District and the awe-inspiring Shibuya Sky. They were captivated by the mesmerizing sword performance at the Samurai Kenbu Theater, immersed themselves in the rich history of Nijyo Castle, and even experienced the renowned Shinkansen or bullet train. A visit to the Brother Museum in Nagoya allowed our representatives to witness the brand's fascinating history and innovative product range.
Building Bonds and Motivation:
Beyond the awe-inspiring cultural experiences, this trip served as a catalyst for building strong connections and fostering camaraderie among the participants. Our representatives from Sagar Distribution Nepal seized the opportunity to connect with Brother Gulf officials and regional partners, reinforcing our shared commitment to achieving mutual goals.
Moving Forward:
Looking ahead, Sagar Distribution Nepal and Brother Gulf remain steadfast in our dedication to supporting one another, maintaining unwavering enthusiasm, and surpassing new milestones. We express our heartfelt gratitude to Brother International Gulf FZE for orchestrating this remarkable trip, and we eagerly anticipate future endeavors that will strengthen our already thriving partnership.
Conclusion:
The appreciation trip to Japan served as a testament to the remarkable achievements and unwavering dedication of Sagar Distribution Nepal as an authorized distributor for Brother home and office printers. Immersing ourselves in Japan's captivating culture, and iconic landmarks, and forging bonds with fellow participants has left an indelible mark on our collective journey. With renewed motivation and a shared commitment, we are thrilled to continue serving our customers and driving success in the printing industry.
Together, let's reach greater heights, offer unwavering support, and create countless more memorable experiences in the years to come.
For more information about Brother products, please visit our website at brother.baleyo.com.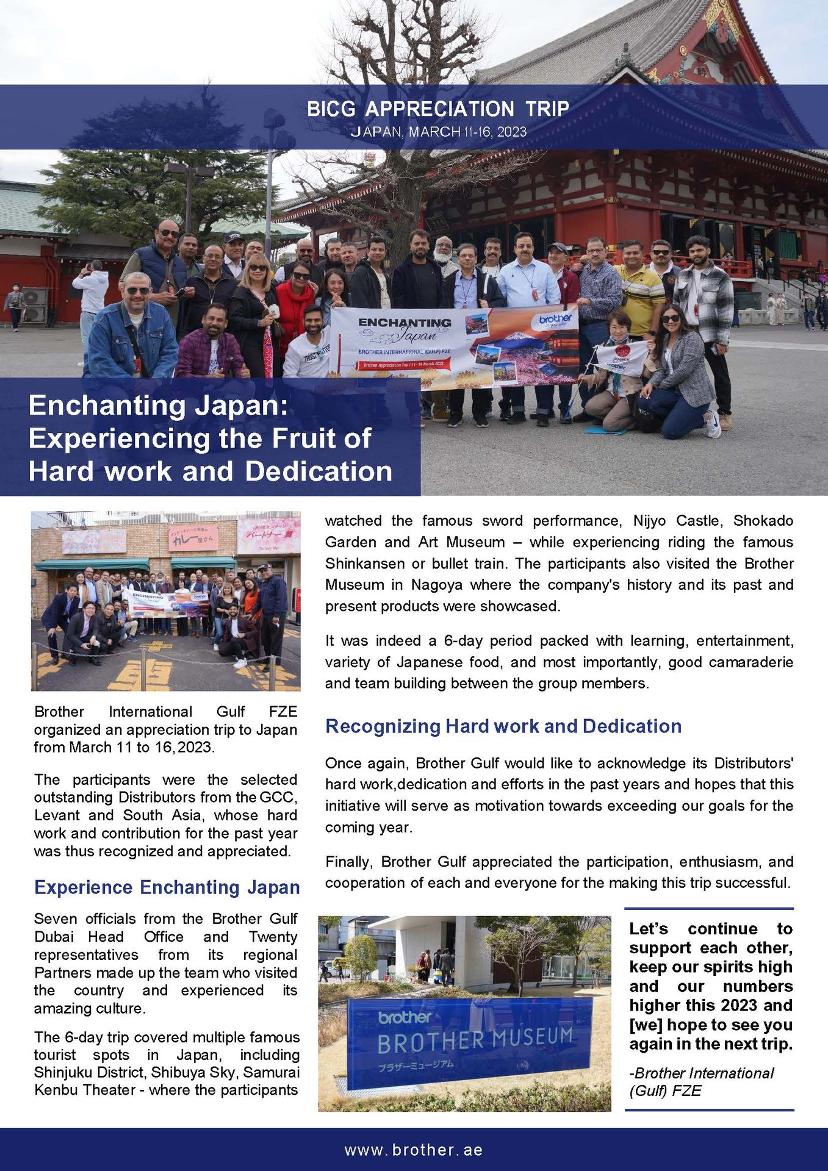 Start writing here...